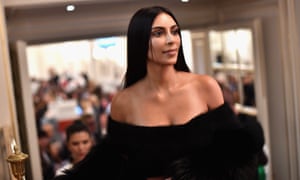 Kim Kardashian West was been robbed at gunpoint in a private residence as she was visiting for Fashion Week. Sources say, the assailtants made off with millions worth of jewelry.
A spokesperson said she was "badly shaken but physically unharmed" after they tied her up in the flat's bathroom before fleeing the scene.
According to reports, five armed men, who were still at large, stole a jewelery box containing valuables worth 6 mil as a ring worth 4 mil and mobile telephones. Police said the robbers escaped on bicycles.
French media reported that the men, who had masks and were wearing fake police armbands, arrived at about 3am on Monday and threatened the concierge at the building in rue Tronchet, near the Madeleine church and not far from the Elysée Palace, the British embassy and the designer shops of rue du Faubourg-Saint Honoré.
The robbers handcuffed the concierge before ordering him to show them where Kardashian West was staying. After forcing their way into the apartment they tied her up and locked her in the bathroom.
Her husband, Kanye West, abruptly ended his concert at The Meadows Music and Arts Festival at Citi Field in New York on Sunday night. He stopped midway through his performance of Heartless, citing a "family emergency".
Thank goodness she wasn't hurt. The jewelry, hopefully was insured and can be replaced.
Photo credit:
Kim Kardashian West at the Ritz hotel for Paris fashion week. Photograph: Jacopo Raule/Getty Images
Filed Under: