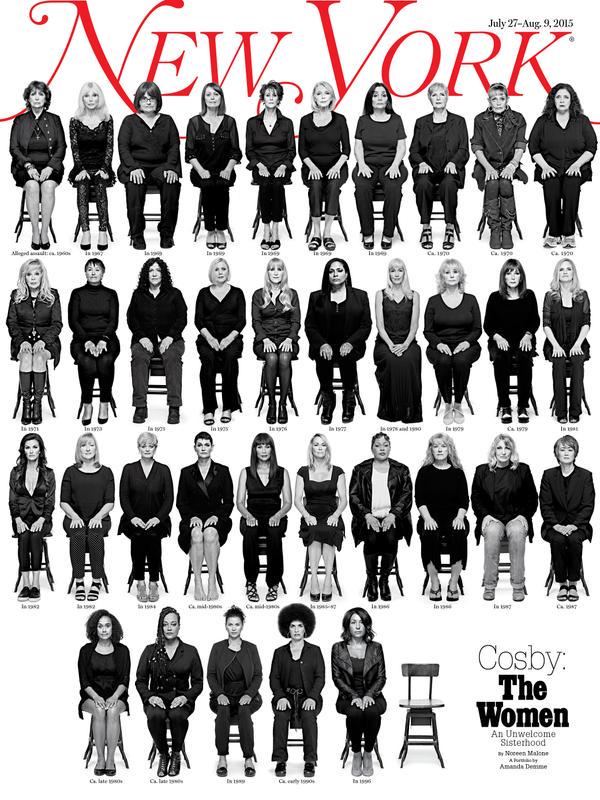 The cover itself features 35 of the 46 women who have come forward publicly. The magazine said it spent six months interviewing each of Cosby's accusers separately, "and yet their stories have remarkable similarities, in everything from their descriptions of the incidents to the way they felt in the aftermath."
Joyce Emmons, a former comedy club manager who was allegedly assaulted by Cosby in the late 1970s, gave this account:

I had a terrible headache, and I said, "Bill, do you have some Tylenol? I have a mother of a headache." And he said to me, "I have something stronger." And I said, "You know I don't do drugs." He said, "You're one of my best friends. Would I hurt you?" And I believed him. All I remember is taking the pill; I don't remember going to bed. But I do remember waking up in a fog and opening my eyes, and I had no clothes on, and there was Bill's friend totally naked in bed with me. I said, "What the F did you give me?" He said, "Oh, you had a bad headache, you were in so much pain. I gave you a Quaalude."
READ THE ENTIRE ARTICLE HERE.
....SMH
Filed Under: