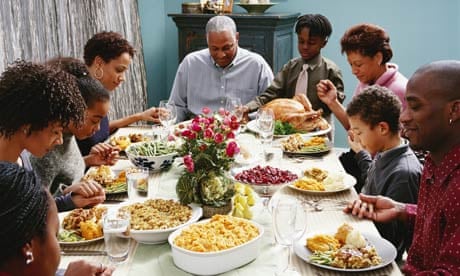 It's time for the holidays, you've been dating this man for quite some time, and now you're thinking should you bring him to Thanksgiving dinner. Before you decide to bring your new man around your family, here are a few things you should think about:
1. The relationship that you're currently in is it serious and are you both working towards a long term relationship? I know you probably have an uncle or cousin that comes to every holiday event with a new boyfriend or girlfriend. You don't want to be this person.
2. If you're both working towards a serious relationship and you decide to bring him around your family, thoroughly prepare him. You don't want your boyfriend bombarded with questions from your nosey grandmother or your overprotective cousins. This will cause him to feel awkward and he may decide to never come around anymore or attend any of your family gatherings. Also, if he is backed into a corner verbally and if he feels threatened he may speak his mind towards your family members and then you will be embarrassed.
A perfect example of how to prepare your new man to meet your family is:
"John, I'm so glad that you decided to spend Thanksgiving at my mother's house but I have to tell you about my family. My great-grandmother is very nosey and will ask you a lot of questions. When my Uncle John drinks too much, he thinks he knows everything and he will not stop talking."
Also, prepare him for the rules of the house.
"My grandmother doesn't allow smoking in her home. Also, if you want to drink an alcoholic beverage, you must go outside."
3. You must also thoroughly prepare your family that you're bringing your new man. Now I am not saying that you have to call all of your uncles, cousins, and grandparents, but let the host know that you're bringing a guest. This prevents that awkward look from everyone when you walk in with your new boyfriend and then everyone starts asking questions. Or if you have a grandmother similar to mine, she needs a headcount of everyone attending or they may not have a plate at the table.
If you have the type of family that is negative and have been known to run people away, don't bring your new man around your family. Just politely tell him why you wouldn't bring him around any of your family members. I am sure he would understand.
Filed Under: