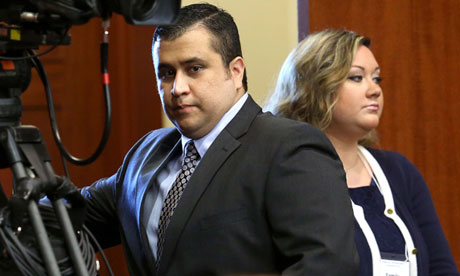 George and Shellie Zimmerman at Seminole circuit court during his trial. Photograph: Joe Burbank/AP
I guess George Zimmerman's wife, Shellie, is sick of him like the rest of us, since she filed for divorce yesterday. Shellie Zimmerman will seek custody of the couple's two dogs and a share of anything he might win in a defamation lawsuit he's filed against NBC.
Shellie says, she stood by her husband through the Trayvon Martin shooting, trial, and even her being brought up on charges, but now that it's over, so is their marriage. She says, he left her with, "a bunch of pieces of broken glass."
She tell's ABC's "Good Morning America" in an interview, that George is "selfish," and goes on to say that her husband has only stayed at their home three or four nights since the ending of the trial; that they tried counseling, but she could not take it anymore and moved out just a couple of weeks ago.
"I have a selfish husband and I think George is all about George," she said.
Not only has Zimmerman wrecked the life of Trayvon Martin's family, friends, and supporters with his cruel and senseless act, he got his wife involved in the whole ordeal. Shellie plead guilty to a misdemeanor perjury charge for lying during a bail hearing following her husband's arrest. Fortunate for the soon to be ex-Mrs. Zimmerman, she was sentenced to a one year of probation and 100 hours of community service. George, was not in attendance at her hearing - isn't that something.
"I stood by my husband through everything," she told ABC, "and I kind of feel like he left me with a bunch of pieces of broken glass that I'm supposed to now assemble and make a life."
Shellie Zimmerman's felony perjury charge was a result of her lying about the couple's assets when George was trying to get his bond lowered. Apparently, Shellie transferred money out of their account ($74,000.00) into her own separate account. Money was also transferred from George's account into his sister's account just days prior to the hearing.
The Zimmerman's claim that most of the money came from website donations that had been set up to help George pay for his legal fees. Shellie testified that they had limited funds because her husband wasn't working and she was a FT student.
Shellie admits to lying, "I can rationalize a lot of reasons for why I was misleading, but the truth is that I knew I was lying. "I have been married to a person for about seven years and I don't think I ever really knew him at all."
She further states George was abusive toward her and he has been making "reckless decisions," as far as she's concerned. While she didn't state what those decisions were, the fact that George has been pulled over twice by the police for speeding,and he only stays home a few nights out of the week, may have something to do with that statement.
"I have supported him for so long and neglected myself for too long," Shellie Zimmerman said. "And I feel like I'm finally starting to feel empowered again."
Filed Under: