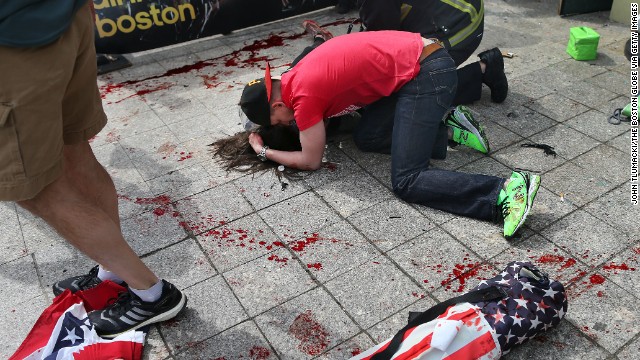 Today, two bombs exploded in the packed streets near the
finish line
of the
Boston Marathon
, injuring at least 141 people killing three, one of which was an 8-year-old boy.
At least eight of the patients are children, 17 are in critical condition, and 25 in serious condition. At least 10 people injured had limbs amputated, according to a terrorism expert briefed on the investigation.
President Barack Obama
vowed that those responsible will "feel the full weight of justice."
The two blasts took place almost simultaneously and about 100 yards apart, knocking spectators and at least one runner off their feet, shattering windows and sending dense plumes of smoke rising over the street and through the fluttering national flags lining the course.
When the second bomb went off, the spectators' cheers turned to screams. As sirens blared, emergency workers and National Guardsmen who had been assigned to the race for crowd control began climbing over and tearing down temporary fences to get to the blast site.
Filed Under: