Mayweather is a 'ish talker and that's what he does best. But he's also a hell of a boxer.
"I could've just outboxed him and moved, and made it a boring fight. But it's a recession," Mayweather said. "You guys spent your hard-earned dollars to come see me, so I said, (expletive), let me give you guys what you want to see."
In what he described as one of his toughest fights — three weeks before he heads to jail —

Floyd Mayweather

held off a game

Miguel Cotto

and came away with Cotto's

WBA

light middleweight title in an exciting action fight that had the raucous crowd of 16,047 standing throughout much of the fight Saturday night at the

MGM Grand

.
For several rounds, the fighters fought toe-to-toe — unusual for Mayweather, who's known for his speed and ability to slip punches and counterpunch — exchanging hard blows. Cotto kept up the pressure throughout the fight, often trapping Mayweather in the corner and teeing off, and bloodied Mayweather's nose early. It bled for much of the fight.
The three judges at ringside scored the fight unanimously for Mayweather, 117-111 twice and 118-110. Their scores were not indicative
of how close and how action-packed the fight really was.
As Mayweather talked after the fight to
HBO
's Larry Merchant — Mayweather apologized on Friday to Merchant for saying the 80-year-old boxing analyst should be fired after his September fight with
Victor Ortiz
, which was followed by Merchant's infamous line, "If I were 50 years younger, I'd kick your ass." — the crowd let the undefeated, 35-year-old fighter know how they felt about the decision.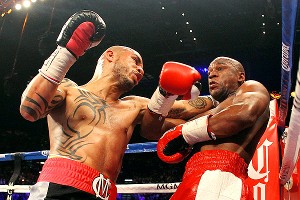 Yet, CompuBox's punch stats skewed heavily in Mayweather's favor. Despite Cotto's constant pressure, Mayweather outworked the Puerto Rican star, landing 179 of 687 punches (26%), while Cotto connected on 105 of 506 (21%).
"You're a hell of a champion, the toughest guy I ever fought," Mayweather, who earned a record $32 million guaranteed, said to Cotto afterwards. "I had to fight hard, suck it up. He's no pushover."
"When fights are on pay-per-view, you want to give the fans what they pay for and that's excitement."
By the end of the night, Cotto had the crowd on its feet, sensing a possible upset over Mayweather. But it was not to be as the new WBA champion improved to 43-0 with 26 KOs.
Cotto (37-3, 30 KOs), of Caguas, Puerto Rico, left right after the fight but talked to HBO off camera.
"The judges said I lost the fight. I can't do anything else. I have to take my defeat," he said. "I brought my best and I did my best every morning in training camp and I did my best tonight."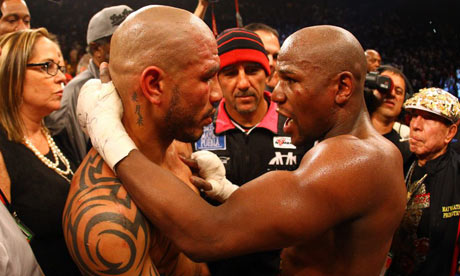 Cotto said he was happy with his performance. "(Mayweather) knows what kind of fight Miguel Cotto brings and so do the fans. I can't ask for anything more."
Filed Under: