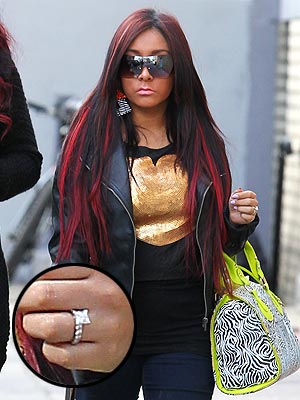 A short time after Snooki's engagement was announced, the Jersey Shore star
was photographed wearing some fancy ring-finger bling that a source tells PEOPLE LaValle picked out himself.
"He knows it should be big, 'cause if it's small I'm saying no, like, 'Get another ring!' " Polizzi, 24, told PEOPLE in January, prior to her engagement.
Sporting long, straight dark hair with thick burgundy undertones, the pint-sized reality princess accompanied BFF Jenni "JWoww" Farley, as the two gals took their dogs to the K9dergarten, while they filmed their spinoff in Jersey City, N.J.
An onlooker says Polizzi eventually removed the flashy jewelry as the day of shooting progressed.
Filed Under: